WESTERN SWINGIN' SUMMERTIME
May 31st, 2009
Yosemite, CA

It's been busy, busy for Sarah and me since we returned from New Zealand, where we were married on February 14, '09. We hosted a 2nd big Yosemite-style wedding celebration at our place for our CA/USA family and friends on March 1st — whew! Thank you to everyone who attended, and thank you also to those who were unable to make it, but checked-in anyway and wished us well. We are married — twice now! — and back out on the music trail, with an amazing year shaping up.
I hope to see many of you at our upcoming LOST WEEKEND Western Swing Band shows next week, June 5, 6, & 7, featuring the LOST WEEKEND 11pc "Western Orchestra". Do come on out and join us for the fun at Freight & Salvage, Little Switzerland, and Don Quixote's.
But with LOST WEEKEND'S marvelous vocalist Pamela Brandon
off vacationing in the UK in early June, what will the boys do?
FLASH:


"Canary of the Prairie." Austin's Maryann Price, will be featured in the vocal spotlight for these June 2009 LOST WEEKEND shows! That's right — Maryann is flyin' in from Texas to her former home here in Northern California — just to sing with LOST WEEKEND. Hot damn!
I've been a fan and friend of Maryann's since her days with ASLEEP AT THE WHEEL, and with DAN HICKS. And I was a devotee as well of the GIR-TONES (Maryann's collaboration with the marvelous guitarist John Girton — the GIRTONES also included ace bassist Stu Feldman, and vocalist extraordinaire Ellen Kearney).
These upcoming LOST WEEKEND shows featuring Maryann are going to be way fun and swingin' — do come on out and join us, won't you? Fiddlers Paul Shelasky (June 5) and Tony Marcus (June 6 & 7). Bobby Black, steel guitar; Mark Holzinger, lead guitar; Rick Alegria, drums; Shota Osabe, piano; Bing Nathan, bass; Jim Rothermel, reeds; Bob Schulz, cornet; Kevin Porter, trombone; Yours Truly, rhythm guitar.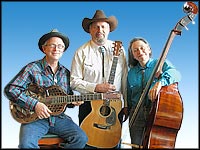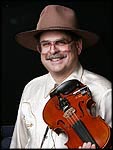 My sleek swingin' new trio, the BOLOS, featuring Karen Horner on bass and Charlie Wallace on steel and standard guitars has a couple of nifty gigs this month — Todos Santos Plaza in Concord on Thursday June 11 at 6:30 PM — and it's free! Paul Shelasky joins us on fiddle for this show. And we'll be at the evening concert on Sat JUNE 13 at the San Francisco Folk Festival. Free as well. Ah ha! I hope everyone loves this collaboration with Karen and Charlie as much as I do — they are sooooo fine.
I want to thank Helen and Matt who featured LOST WEEKEND at their sensational wedding celebration in Yosemite's Ahwahnee Hotel on May 16 — congratulations you rascals — thanks for having us, and good luck!
Sarah and I enjoyed the Spring STRAWBERRY MUSIC FESTIVAL — the highlight for me was the return to California of my longtime pal, fiddler Kevin Wimmer, with his fantastic band, the RED STICK RAMBLERS from Lafayette, LA. We got to meet Linzay, Eric, Glenn and Chas — and jam it up a bit with the boys. Superb group — and Kevin's artistry on the fiddle makes him tops wherever he's playin'. FLASH: These guys are all comin' to WEISER next month!
SAVE THIS DATE:


LOST WEEKEND headlines at the STRAWBERRY MUSIC FESTIVAL for the Fall '09 — exact date is SEP 5, 2009. The sensational TIMEJUMPERS from Gnashville will be there Saturday night as well, featuring my longtime pal, Andy Reiss, on guitar and the redoubtable Paul Franklin on steel guitar. If you miss this historic Western Swing event — well, you missed it.
TOURIST IN MY OWN TOWN:


Sarah's friend and colleague from the New Zealand International Arts Festival, Denise Brennock, visited us this last month. Denise enjoyed the Strawberry Music Festival with us, and visiting Yosemite NP. Also, among the many adventures we enjoyed with Denise, were visits to the Marin Headlands GGNRA, and to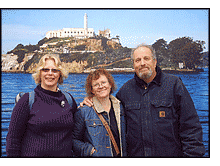 Alcatraz. I am a native San Franciscan, but I had never actually gone to the island, and taken the old prison tour. NPS has done a fine job presenting history here — really superb tour from an unpaid (!) docent I wish I could name. However IMHO these docents should be paid (and or paid rangers should give the tours). National and state parks are underfunded and understaffed, though their value to the nation is immense. Aggghhh!
Also we visited Chinatown — twice to Henry Chung's HUNAN eatery! — and we had a dizzy fun day at Six Flags Discovery Park with my daughter Tracy and granddaughter Celeste enjoying the lions and tigers (!) and roller coasters (agghh!). My third visit to Six Flags (formerly Marine World). The kids of course loved the rides — I went on just the old fashioned wooden roller coaster, and that gave me more of a headache than a thrill. My favorite attraction in past years was the orcas — it seems Six Flags is down now to just one killer whale in its staff. The orca show is still good — but a far cry from spectacular past shows I have seen before. Seals and sea lions also getting short shrift these days. Also no more fancy water skiing. All in all though, it is a dizzy fun (and not cheap) day. Thanks Denise for visiting us — see you in NZ.
RE: THE SONGS:


DRIVING LESSON was featured on NPR's CAR TALK a few weeks ago, and we've just learned that Click and Clack are putting DRIVING LESSON on their new CAR TALK CD album which will benefit National Public Radio! Thanks Tom and Ray!
A DOG'S LIFE has gotten the fancy of Western Swing radio guru Mike Gross, and it has cracked the WS Top Ten! Ah ha! Thanks Mike. Listen to Mike's Swingin West show on the internet.
APPLE AND GOOGLE AND GOLD has managed to creep all over the internet from You Tube to who knows where by now. I'm glad y'all like it, and quite a few are singin' it around. Someone dubbed it the Wall Street Waltz. Ah ha!
I'll see all you wise and stalwart Western Swing folks at WEISER in a few weeks.
More soon then from Idahosky—db

TYING THE KNOT
February — March, 2009
New Zealand & Yosemite

Sarah and I were married on February 14, 2009 in her native New Zealand.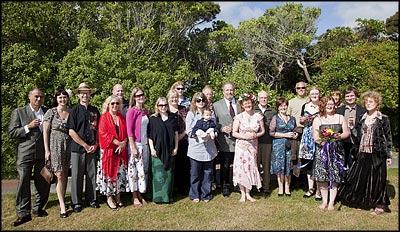 Valentine's Day turned out to be a spectacular and bright Saturday; folks boarded the cable car in downtown Wellington, ascending to the botanical gardens high above the city. Our wedding took place near the "Sundial" and the Carter Observatory. What a happy day for Sarah and me!
We spent two weeks in New Zealand in Wellington and vicinity, celebrating with Sarah's wonderful (large) family, and her many friends. This was my first visit to New Zealand, so it was all new. Wellington is a very attractive city — very "hip" — and it has a civility and harmony which is difficult to find these days. Fantastic coffee is found everywhere, for these Kiwis love good coffee.
Wellington has a beautiful harbor; the city is very walkable, with interesting sculpture and public art. There are grand buildings from the colonial era, interspersed with a tasteful, fanciful modern skyline. We visited Wellington's Museum of City and Sea, Te Papa National Museum of New Zealand, and the Wellington Zoo. Each of these was superb and will warrant a return visit soon.
While in NZ, I was privileged to play a house concert (thank you Mary Livingston) which was very well-attended. During my stay I also met many of Wellington's musical performers, and I even got to play a little show at MOJO with Peter Dyer, who originally introduced Sarah and I (thanks Peter!).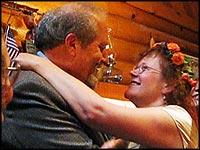 Back in Groveland, Sarah and I celebrated another fabulous wedding weekend surrounded by our band members and dear friends. Whew! Two weddings, two hemispheres, too cool!
Now Spring is arriving in the Yosemite region. We had a little snow and rain overnight, and the sun occasionally peeks through the clouds to let us know there are blue skies ahead. We saw magnificent flowers at Hite's Cove (El Portal) and in the Tuloumne River canyons bordering the Crook Ranch (thanks to our neighbor Grant Crook!).
We enjoyed a beautiful day at Badger Pass Ski Resort playing music at the lodge. The BOLOS were Karen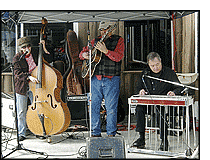 Horner, bass; Bobby Black, steel guitar, and yours truly on guitar. My voice was gone (completely) for this gig — some kind of nasty 3 day virus. Karen, Bobby and Sarah took up the slack and did the singing and no one seemed to mind. Thanks ya'll — I'm better now, and back at it.
We have a BOLOS premier show at Mission Coffee in Santa Clara April 18th, with my awesome pals Karen Horner and Charlie Wallace. Sarah and I have trips to Canada and Scotland ahead before the summer festival season begins. (2 Day Town, Weiser, and Music Camp in the Sierra Nevada are all in our gunsights).
There are LOST WEEKEND band shows at some of our favorite haunts: Berkeley's Freight and Salvage (June 5), Sonoma's Little Switzerland (June 6), and Don Quixote's Music Hall in Felton (Santa Cruz region — June 7). The BOLOS will play in downtown Concord, CA at the park on June 11th (evening).
Strawberry Music festival (FALL) is shaping up with the September 5th afternoon LOST WEEKEND headline spot and a dance at Amy's Orchid Café that night. Our collegues, Gnashville's TIMEJUMPERS will be at Strawberry that evening, so this is a not to be missed event.
Please do come on out and support live music in your community during these hard times. Thank you to all the music professionals and venues who continue to promote and support great live music, and most of all to those of you who come out to dance and listen to LOST WEEKEND and the BOLOS. We look forward to seeing everyone out on the musical trail.
Best to all from beautiful Yosemite,
Don and Sarah

DAWN IN YOSEMITE
January 21, 2009
Yosemite, CA
It is a new day in the Sierra Nevada — and a new day for the Nation.
Deer, bobcat and quail make their early morning rounds as ever here in the foothills. Mr. and Mrs. Bear sleep through it all, while a plethora of creatures, great and small, search for warmth, and for food.
It is a new dawn as well for the USA — and hopefully, with our bright, young, new President Barack Obama, America will be able to right itself. The Nation's difficulties and problems seem so immense — the damage so vast — the world situation so desparate; America needs magnificent leadership — our new President seems quite like a beacon of hope and promise. We join all Americans, indeed all humanity, in wishing him the very best.

On a most happy and personal note: Sarah and I will travel to New Zealand next month where we will be married (!) on Valentine's Day in her native Wellington, NZ. We'll repeat our celebration when we return at the end of the month, here at our home near Yosemite.

Sarah has arranged a house concert Saturday, February 21, and some other guest appearances, for me while we are in New Zealand, and I look forward to singing for the folks downunda. I believe the Folk Music Club in Wellington will be spreading the word here.

Before heading for New Zealand we'll point the wagons for Elko, NV to join in the fun at the National Cowboy Poetry Gathering.
The re-do of "Cumberland Blues" (San Jose Stage Company), scheduled for SPRING '09, has been canceled. Script machinations have been blamed. Maybe next year.
STRAWBERRY MUSIC FESTIVAL update:
LOST WEEKEND Western Swing Band (12 piece) will headline at the Fall 2009 Strawberry Festival — our main-stage performance will be on Saturday, September 5 at 1:45 PM. Our colleagues, the fabulous TIMEJUMPERS from Gnashville (featuring my old pal Andy Reiss on guitar), will also perform on the very same Saturday night (exact time TBA). An historic day for contemporary Western Swing music, I dare say, and not to be missed. Since Strawberry always sells out, I encourage everyone to get tickets which are now on sale: Click to visit the STRAWBERRY WEBSITE.
More as I head for New Zealand… —db

EGG NOG BLOG
December 17, 2008
Yosemite, CA
Winter has come to the Sierra Nevada, and the foothills are shivering under their snowy bonnets. I'm hovering near the woodstove, eggnog at the ready. Here's what's up with LOST WEEKEND:
The LOST WEEKEND band returns to the STRAWBERRY MUSIC FESTIVAL for Fall 2009!
LOST WEEKEND will perform on the STRAWBERRY main stage on Friday, September 4, 2009 at 1:45 PM. There may also be a dance at Amy's Orchid Lounge, and there may be workshops—fiddle/steel guitar… All TBA, and of course subject to change.
Rumor: our Gnashville buddies, the sensational TIMEJUMPERS, may also be on the bill for Fall STRAWBERRY. Wow! Hope it happens! Stay tuned.
Watch for Bobby, Mark and Don from LOST WEEKEND reappearing in the cast of San Jose Stage Company's musical CUMBERLAND BLUES, coming back in March/April '09. The show features the songwriting of Jerry Garcia and Robert Hunter. Click to visit the San Jose Stage Company website.
After being hounded and encouraged, I've recorded a new CD. Three of my original songs, including APPLE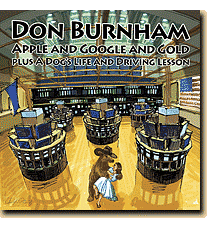 AND GOOGLE AND GOLD, with swinging arrangements featuring the LOST WEEKEND band. It's hip! It is a "recession-sized and priced" CD.
In addition to APPLE AND GOOGLE AND GOLD, my songs A DOG"S LIFE and DRIVING LESSON are included. Superb art and design by illustrator Chris Peterson. It's a nifty gift, and the price is a mere seven bucks, plus two for shipping. That's my pitch, and I'm sticking to it. Hope everyone will please order the APPLE AND GOOGLE AND GOLD cd! (Redoubtable Records RR49)
We've posted three more of our tunes on YouTube. Kudos and thanks to Paul Kealoha Blake, video wizard honcho at EAST BAY MEDIA CENTER. Please check out Pam Brandon singing COW COW BOOGIE, and IT TAKES A LONG, LONG TRAIN WITH A RED CABOOSE.
We chronicled recording APPLE AND GOOGLE AND GOLD, my "Wall Street Waltz" and this is now on YouTube, as well.
Thank you all for supporting Western Swing and live music in these hard times.
Happy Holidays! and Happier New Year, 2009. —db

DON'S FAIR E-TALE
November 12, 2008
Yosemite, CA
Today is my late Mom's birthday — Bing Burnham would be 98 years old. Her artwork can be enjoyed on the cover of our LIVE! album LOST WEEKEND — Swingin' Out West. Happy Birthday, Mom.

LOST WEEKEND rides in to historic Little Switzerland (Sonoma) this coming Saturday night (11/15/08) for a dinner-dance at the Wine Country's favorite venue. Alina Garcia's friendly and swingin' LITTLE SWITZERLAND has hosted the LW band for many years now — it is THE place to meet old friends, make new ones, and to enjoy Western Swing dancing. A BIG dance floor at Li'l Swiss! Hope to see many of you there on Saturday night.
Sunday (11/16/08) we are privileged to play for our good friend Bob Hansen at his retirement celebration in San Francisco. Bob leaves the Yosemite Fund after two decades+ of service as its President — his replacement none other than Yosemite Superintendent (retiring) Mike Tollefson! Congratulations Mike on your appointment, and Bob — thank you for all you have accomplished for YNP and the Yosemite Fund!
The 11 piece LOST WEEKEND big band will be at Joey Lent's STRINGS music showcase on Wednesday, December 3rd, in Oakland, CA. STRINGS will be packed…last time folks were turned away who arrive late, so please arrive early (door opens 7:30 PM) to get seated.
This last week I wrapped up recording my EP disc which will be released VERY soon. Three of my original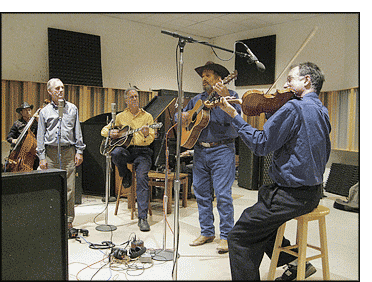 songs in a nifty CD, with artwork and design by Chris Peterson. Apple and Google and Gold (AKA"Wall Street Waltz") and A Dog's Life were recorded last week at Bay Records studios in Berkeley (Bob Shumaker, engineer); they've been mixed and are heading for pressing. Bonus song also included is my tune, The Driving Lesson, which was recorded some time back at Studio D in Sausalito, CA (Joel Jaffe, engineer). Apple and Google and Gold was videoed as well for a YOU TUBE release which should be up in just a few days (Paul Kealoha Blake, videographer — EAST BAY MEDIA CENTER). Thank you Bob, Joel and Paul — and of course the LOST WEEKEND band — for a great job on these recordings. Click to see the Apple and Google and Gold video on YouTube.
Webmaster Victor Landweber is doing a fine job getting our websites remodeled. Many more updates and changes happening, so keep tuned here at www.lostweekend.ws — also www.donburnham.com and www.redoubtablerecords.com promise to finally come to life.
LOST WEEKEND will return again to the STRAWBERRY MUSIC FESTIVAL— Labor Day weekend 2009; rumor has it that our friends, the fabulous TIMEJUMPERS from Gnashville, featuring my old pals Andy Reiss and Doug Green on guitars, may be at STRAWBERRY for Spring '09! Sure hope so — they are just superb, and we look forward to their California appearance(s)!
Thank you also to Helen Jupiter for booking LOST WEEKEND for your wedding at the Ahwahnee Hotel in Yosemite in May!
More soon from the Sierra foothills… Best —db

"A CULTURE IS PRESERVED ONE GENERATION AT A TIME"
— Dewey Balfa
September 9, 2008
Yosemite, CA
As the reconstruction of the LOST WEEKEND Western Swing website takes shape, I've taken a look back at the recent months and years, and my memories have come rushing to the surface. I am thinking here of the many great musical artists — colleagues, mentors and heroes — who have passed away.
A partial (random) list would include Joaquin Murphey, John Hughey, Don Helms, Tommy Morrell, Jimmy Rivers, Vance Terry, Larry Black, Jerry Wallace, Eddy Arnold, Dale Warren, Vassar Clements, Cindy Walker, Speedy West, Phil Elwood, Phil Howe, Cotton Roberts, Sheldon Bennett, Winnie Winston, Ray Reed — aggghhh! If I sit here and sadly ruminate, I will think of many, many more. In short — the pioneers in our music are leaving us, and we must try to carry on their legacy — for a while — then, a new generation will shoulder the tradition.
I am heartened to think of what lies ahead when I appreciate the really fine younger musicians I have met in recent years — they are the future of the music. Check out Alex Hargreaves, the Quebe Sisters, James Morgan Harman — to name just a few — whom I have had the pleasure of meeting. I paraphrase here the great Dewey Balfa's oft-quoted insight: "A culture is preserved one generation at a time."
Support live music in your community, while you can. And we'll continue to tip our hats to the many pioneers whose legacy sustains and enriches us all.
Keep swingin' —db

SUMMER'S ALMOST GONE
September 1, 2008
Yosemite, CA
We're back from the '08 Labor Day STRAWBERRY MUSIC FESTIVAL at Camp Mather (Yosemite), CA.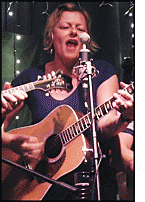 LOST WEEKEND'S featured vocalist Pamela Brandon held forth at the Sierra extravaganza in her alter-ego as BELLE MONROE of BELLE MONROE and HER BREWGLASS BOYS. Congratulations to Pam and the "Boys" on your great STRAWBERRY debut!
I got to jam it up a bit with many friends assembled, including Sacramento-based jazz guitarist Dave Shapiro; steeler and guitar maestro Charlie Wallace from my own trio, the BOLOS; as well as my runnin' buddies, troubadours Doug Blumer (BEERHUNTERS), and Jim Passard (LOST CATS). It was hard to get a tune in with Ms. Pam — she had her hands full being BELLE this weekend!
Also enjoyed singing and picking from Amber Cross, Tom Diamont, Muddy Barnes, and Le Grange's own Cactus Bob and Prairie Flower (my STRAWBERRY hosts at Camp Obey Bob), and vocalist Sara Campbell. Impressario Larry Carlin who hosts CAMP CARLTONE was most gracious to invite me to sing on the show at Camp Carltone. (I did my new song "Apple and Google and Gold") — hey, the assembled multitude like that song (!) which I have subtitled the "Day-Traders' Lament". Thanks Larry.
The weather was beautiful — another fine Sierra Nevada musical retreat; LOST WEEKEND Western Swing Band hopes to return to the mainstage at the STRAWBERRY FESTIVAL next year '09 — stay tuned for details. (including a dance!)
Meantime we'll be entertaining in Yosemite National Park at the Ahwahnee Hotel in the coming weeks for two beautiful private wedding bashes — thank you to Claudia St. Louis, and also to Tom Diloff, for booking LOST WEEKEND Western Swing Band for your most special festivities.
Our thanks also to the magical Phoenix Shop at NEPENTHE—Big Sur, CA. which has again stocked up on LOST WEEKEND albums. The central coast's beloved destination/restaurant and art/gift emporium is on our fall itinerary; we hope to be swingin' down to BIG SUR soon to visit pals and rekindle our spirits as only the South Coast can do. Ah ha!
I hope to see many of you this month at our shows SEP 20th at the FREIGHT & SALVAGE in Berkeley, CA; also dinner/dance SEP 27 at LITTLE SWITZERLAND, Sonoma, CA. Keep an eye on the TOUR DATES page at www.lostweekend.ws for updates and our new website changes — coming soon.
Keep swingin' —db

OPENING SALVO
August 7, 2008
Alas, I have succumbed to blogness. Here then is "Don's Blog" — the first edition of same. On some sort of irregular basis, I will use this "kiosk" to provide information on LOST WEEKEND and Western Swing music in general, and the California music scene in particular. And, of course, now I too can "vent," and share my point of view with the music community. Ah ha!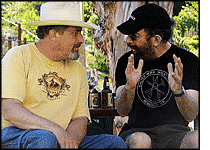 First off I want to thank Chris Peterson and Jeff Nye, who, for the last six years+, have honchoed LOST WEEKEND's web address www.lostweeekend.ws — that task has now been officially moved to the design studios of Victor Landweber (victor@landweber.com). Thank you, Victor, for taking on LOSTWEEKEND.WS, as well as DONBURNHAM.COM, and REDOUBTABLERECORDS.COM — good luck with your mission, cyber-pilot.
2008 has been an adventure indeed for LOST WEEKEND Western Swing band — Fall '08 looms ahead with many swingin' shows booked. The long-awaited reconstruction of our web site caps a year which began with a 6 PC LOST WEEKEND Western Swing outfit making the trek to Elko, Nevada, for a four night stand at the STAR BASQUE HOTEL AND RESTAURANT. Pam Brandon, Bobby Black, Mark Holzinger, Steven Strauss, Paul Anastasio, and yours truly, entertained at the famed Basque eatery/watering hole during the heart of the NATIONAL COWBOY POETRY GATHERING. Thank you Scott Y. and the STAR for hosting Western Swing music during the '08 Gathering!
There have been memorable concerts at FREIGHT & SALVAGE (one more SEP 20!) — the FREIGHT moves soon to its new Arts District facility! Also swinging nights at the pace-setting venue, the BLACK OAK CASINO in Tuolumne, CA (Nov 1st coming right up). We continue to return to our Sonoma dance home at LITTLE SWITZERLAND (Sep 27 and NOV 15), and to STRINGS (Dec 3rd).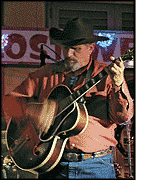 The eleven piece all star LOST WEEKEND band entertained five Monday nights this Spring at BISCUITS & BLUES in San Francisco — before owner Stephen Suen had to pull the plug due to $$$$. Thanks Stephen for attempting this Monday showcase. Even in a good economy this would have been a stretch, so thanks Steven for attempting during today's firestorms. Those lucky ones who attended the shows at BISCUITS heard the modern LOST WEEKEND eleven-piece band romp as never before through classic Western Swing and big band charts that have built the group's reputation as a solid sender.
The band continues to be featured at wedding events at the Ahwahnee Hotel and other Yosemite venues. Leaving one of these wedding engagements, Pam and I spotted a momma bear in the meadow of Yosemite Valley…madam bear always beckoning us back for more Yosemite adventures.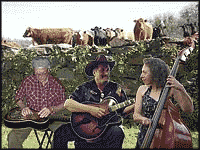 Thanks to the Castro Valley Center for the Arts for featuring us at the Rowell Ranch Rodeo kickoff concert; to Silver Oak Cellars in Geyserville for having LOST WEEKEND entertain at their annual Growers' Dinner, and to our major friends — the brave firefighters in Groveland, Tuolumne and Mariposa Counties, as well as CAL FIRE, USFS, and NPS for having us play the Firefighters' Dance at the Lake Lodge. LOST WEEKEND was also proud to be a part of the event heralding Kennedy Meadows Stables at the fairgrounds in Sonora. To all our supportive friends who have booked LOST WEEKEND, as well as the BOLOS, and the OVERALLS for your special occasions and made live music part of your events; we say: thank you!
The LOST WEEKEND DVD is in the works for '09 — East Bay Media Center and Paul Kealoha Blake are stewarding this project with me. The band hopes to return to all our favorite music stages — as well as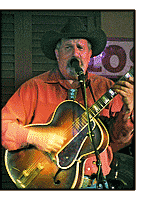 some new ones — in the months ahead. Keep an eye on the web site as we remodel and reconstruct. If you have photos of the band you would like to share — please send them to our webmaster Victor Landweber (victor@landweber.com).
We're off now to make the drive down "5" to Los Angeles; the BOLOS (with Bob Applebaum and Karen Horner) are booked for Sharon Bernstein's Birthday bash. Happy Birthday, Sharon!
More later. Keep swingin' —db