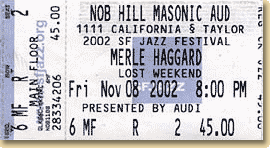 by Derk Richardson
Special to SF GATE: Monday, November 11, 2002
Review: MERLE HAGGARD & LOST WEEKEND, Friday, November 8


One verse into his classic cranky redneck-white-and-blue anthem "Okie from Muskogee," Merle Haggard stopped his band and told the audience, "Aw, you don't want to hear that." Perhaps the 65-year-old Bakersfield native had expected the audience to explode with the same spontaneous roar of recognition and appreciation with which they had greeted many of the previous 18 songs. So Haggard led his tight seven-man band of veteran Strangers ("We're not sick" he cracked early on, "we're just old") into a more universal chestnut from his original repertoire, "Workin' Man Blues." Then he wrapped up the show with the contemplative title track from his 2000 album, If I Could Only Fly.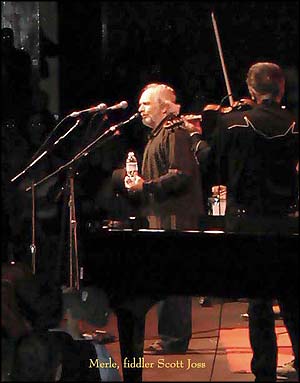 What much of the audience did want to hear (as several vocal fans shouted out) and had been primed for — by the Jazz Festival publicity, emcee Tom Diamant and a rousing warm-up set by the Bay Area's own Lost Weekend — was a tribute to Bob Wills, the King of Western Swing. In his introductory remarks, Diamant had made a strong case for the inclusion of Wills-style music on a jazz festival program. The longtime KPFA programmer should know; he produced a slew of late-'40s Wills "Tiffany Transcriptions" on his Kaleidoscope label back in the '80s. Lost Weekend, led by rhythm guitarist/singer Don Burnham, and featuring such extraordinary soloists as reed player Jim Rothermel, pedal steel ace Bobby Black and fiddlers Kevin Wimmer and Paul Anastasio, played true to the night's theme, complete with versions of "San Antonio Rose," "Faded Love" and "Take the 'A' Train" (which the Texas Playboys liked to cover from the Ellington songbook).


Hag, however, had his own agenda — to put on a Merle Haggard show. With only a version of "Ida Red" and several brilliant instances of unison playing between the guitars, fiddle, piano and trumpet (or sax) to make the Wills connection explicit, Haggard devoted his 80 minutes to such staples as "Big City, "The Bottle Let Me Down," "Tulare Dust", "Mama Tried," "The Fightin' Side of Me" and "Sing Me Back Home." He was in fine voice and spirit. He frequently doffed his hat and sunglasses to acknowledge the adoring and respectful applause. Doing so he exposed the physical toll age and hard living have taken on his hairline and craggy face. But his artistry is in top shape, confirmed by his recent CDs on the punk-associated Epitaph/Anti-label. Obviously, so is his ornery sense of independence.


Unexpected highlights: A young Eminem clone too high for anybody's good being escorted by security from a front-row seat just as Merle was singing "They're taking you away" during "Silver Wings"; and Merle patiently signing autographs from the doorway of his tour bus idling outside the auditorium.



Publication date: November 13, 2002


Merle Haggard was booked into play a "Tribute to Bob Wills" show at the Masonic last weekend, part of the S.F. Jazz Festival. Wills was the "King of Texas Swing," and Hag even owns a super rare Stradivarius fiddle that Wills played. So imagine the quandary and disappointment of the house full of fans when Haggard, in an otherwise terrific show, failed to play even one Bob Wills tune. There's talk of litigation. ... "We don't know if a failure to hold to the repertoire represents a breach of contract," says the S.F. Jazz Festival's Audrey Faine. "It's under discussion." A decision on whether to take the outlaw to the law is up to festival founder Randall Kline, who is in New York. Word backstage was The Hag was fuming when the opening act, local band Lost Weekend, played an almost exclusively Bob Wills set — most of the songs included on the acclaimed Bob Wills Tribute album Haggard recorded back in 1976. "Randall will have a chat with Lost Weekend," Faine explained. Fans shouted their complaints at Haggard on stage. "We also ran out of beer for the first time at the Jazz Festival," Faine chuckled. "We had sh--kickers on Nob Hill." Kline has been after Merle Haggard for years to perform a Bob Wills show at the festival, now 20 years old. "If fans are really upset," Faine says, "ticket refunds are a possibility."

Publication date: November 14, 2002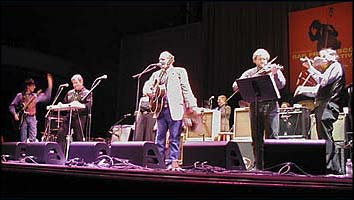 More on Merle Haggard's mysteriously Wills-less tribute to Bob Wills, King of Texas Swing, the other night. Story goes that the Hag decided to omit the Wills tunes after the opening band, the local group Lost Weekend, probated the Wills material with aplomb. Says the intriguingly named Merle Mason, "I thought Lost Weekend was superb, and the crowd wouldn't have minded hearing classics like 'Faded Love' performed twice in the evening." The Hag got off some good lines though. Quoth the Son of Bakersfield, "Being back here in the Bay Area still reminds of the first time here. I was a guest — I had no choice in the matter." He was referring to the three years he served in San Q., as a teenager, for burglary. The band started then to play "Okie from Muskogee." Haggard cut it off: "I just remembered. I think I mention San Francisco in that song." That drew a big laugh. Hag's memorable tribute to Baghdad-by-the-Bay in that tune goes: "We don't make a party out of lovin'; We like holdin' hands and pitchin' woo; We don't let our hair grow long and shaggy, Like the hippies out in San Francisco do." Great song. ...



by Kim Hayden
Special to the Record Searchlight, November 14, 2002


SAN FRANCISCO — Bob Wills, the fiddle-playing and cigar-smoking bandleader of the '30s and '40s jazz-influenced band, The Texas Playboys, never thought of himself as a country performer. He thought he was a swing musician. A swing musician who wore a cowboy hat. "Wills thought of himself as a pop musician," said Tom Diamant, host of KPFA's Panhandle Country radio show in Berkeley. "He didn't see himself as a country musician. (His music) was certainly with Texas influences, but it was swing nonetheless." No, he wasn't country — he was the King of Western Swing, and Friday he came close to getting his long-overdue recognition in jazz society as an accomplished jazz-influenced musician at the San Francisco Jazz Organization's 20th Anniversary of the San Francisco Jazz Festival.


Included in their lineup of the 19-day festival was a night dedicated to Wills, performed by admirer Merle Haggard. It was a spectacular Haggard concert, but one thing was missing from his performance of "King of Western Swing: Merle Haggard Salutes Bob Wills" — the tribute to Bob Wills. Following the set of San Francisco western swing band Lost Weekend, Haggard's band, The Strangers — including legendary country guitarist Norm Stephens of Cottonwood who still plays a damn good guitar at age 71 — took the stage and warmed up the crowd. Anticipation was thick in the auditorium full of Haggard and Wills fans alike. After a few minutes, Haggard, a longtime Palo Cedro resident, took the stage and immediately went into one of his own songs. After that song came another Haggard original, then another, and another, and so on. Instead of a musical tribute to Wills' recognition by the S.F. Jazz Organization, Haggard performed a Haggard concert. The one exception was his inclusion of "Ida Red," a traditional folk song that Wills recorded in the late '30s. Not only did Haggard fail to play Wills songs, he didn't even mention his name.


"Western swing was going to be given the legitimacy in jazz that it always deserved and he ruined it," Diamant said. Wills' band included strings, horns and the smooth, crooning vocals of singer Tommy Duncan. Wills himself played the fiddle and led his band with high-pitched hoots and hollers. They were swing all the way — with a western twist. "I think it was an insult to the memory of Bob Wills who was a man who gave it his all. It was an insult to his audience," Diamant added. "There were many people who were there to see a Bob Wills tribute. I have friends who were there who came from far away in the rain only to be disappointed. We were frustrated, disgusted and it was a sad moment." At the end of the concert, the audience stood in applause — and confusion — as they leaned toward their companions saying, "He didn't play any Bob Wills songs" and "Come on, you know if we keep standing here clapping, he'll come back out and play some Bob Wills." Only he didn't. After over an hour of performing, Haggard left the audience standing there, wondering what had happened. "I'm confused," one woman said to her friends as concertgoers began filing out of the auditorium after lingering long enough to know that Haggard wasn't coming back out. "We all are," another woman replied.


Diamant mentioned that Haggard had said in an interview in the Nov. 6 issue of the San Francisco Chronicle that he felt Wills' belonged in a jazz festival. "As far as I know, he was aware it was supposed to be a tribute to Wills and talked about it, and felt it was appropriate for the festival to do a tribute," said Diamant, who talked-up the homage in his opening remarks before the performance. "He apparently decided not to do that." Diamant said remembered a man backstage asking Haggard to play some Wills songs, and the Hag "looked right at him and launched into one of his own songs." Audience members yelled out Wills songs, as well, but they didn't get to hear any — save for "Ida Red," which, as one concertgoer said in an e-mail to Diamant, "wasn't enough." "I was a little bit miffed," said bluegrass musician Corbin Pagter, 38, of Berkeley who attended the concert. "I'm a huge fiddle fan and I thought there would be more Bob Wills tunes and acknowledgement. Don't get me wrong, it was a great performance. He has a real stage demeanor and an incredible presence. But, was there something I missed?"


Although many at the concert walked away upset and disappointed, many others were completely satisfied with Haggard's performance. "I bought tickets to see Merle and I wasn't disappointed at all," said Bob Luscombe, 32, of San Francisco. "I was unclear why it wasn't actually a tribute to Bob Wills. It was confusing but it was a really good show of standard Haggard stuff." Haggard lived up to his image of rebellion that night, and through all the mass-confusion, his non-conformist ways still put a smile on some people's faces. "It's kind of cool if he agreed to do a whole Bob Wills set and just didn't do it," said Luscombe, a self-proclaimed hater of jazz. "At least I got to see him." Wills fans and jazz festival supporters appeared to have the strongest feelings about Haggard's snub of Wills. "We tend to put up with a lot from artists and certainly Bob Wills did his share of getting drunk and not showing up to concerts," Diamant said. "For Mr. Haggard to show up and so blatantly ignore his audience is worse than not even showing up. It was a disrespect to the memory of Bob Wills."


Kim Hayden, a senior at San Francisco State University, is the assistant managing editor of (X)press online, the university's online magazine.


Jazz festival's rag on Hag off the mark
Special to the Record Searchlight, November 21, 2002


Every time Merle Haggard performs, it's a tribute to Bob Wills. That's something organizers with San Francisco Jazz Festival don't seem to realize. According to a story in the San Francisco Examiner last week, the festival was actually considering litigation against Haggard for not performing any Wills songs in a Nov. 8 concert billed as a tribute to the legendary pioneer of Texas swing. A lawsuit against Haggard? What a joke. First off, Haggard played two Wills tunes at the festival show — "Ida Red" and an instrumental called "Boothill Drag." That seemed to fly over the heads of many. Secondly, he was being generous to do that. Haggard received a raw deal when the Bay Area band Lost Weekend warmed up the show by playing an almost exclusive set of Wills material, including most of the songs from Haggard's 1976 Bob Wills tribute album. What was the Hag supposed to do, go out and repeat all those songs? Who knows what Lost Weekend was thinking, but more importantly, the concert promoter should have coordinated the material beforehand. It seems that process wasn't very well thought out. But beyond that, Haggard's very presence at the festival was a tribute to Wills.


"Western swing isn't a song, it's a style," said Cottonwood's Norm Stephens, the guitarist who rejoined Haggard for his recent shows, including the San Francisco performance. "I think the criticism (Haggard's received) is highly unjust. Ninty-nine point nine percent of the people were very satisfied with the show. It's a farce to think he's not respecting Bob Wills' heritage." Prior to the concert, Haggard had been diligently rehearsing Wills tunes for weeks. I think he was fully prepared to perform them until he heard the set by Lost Weekend. After witnessing that, he decided to play a set of his own material plus a pair of Wills tunes that Lost Weekend didn't touch. By all accounts that I've heard, it was a strong performance. Haggard happens to be a giant of American music, not just country, who can fall back on his own great material. Many deft music experts believe he's at the top of his game right now — both in the studio and on stage. In other words, he didn't space the tribute. He owns Bob Wills' fiddle and has a giant photo of him plastered on his wall in his Palo Cedro home. Haggard had his reasons for playing the type of show he did. The 71-year-old Stephens, Lefty Frizzell's former guitarist (who was once offered a job by Bob Wills) said it was 10-hour struggle just to get to the San Francisco gig. Haggard didn't do an encore, but he almost never does them. He played the show despite still recovering from foot surgery and recent back problems. The festival was lucky to have him perform at all. In time, hopefully the organizers and audience members realize that.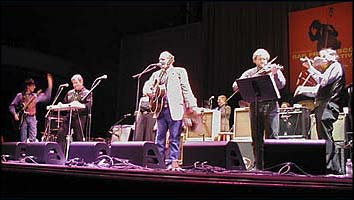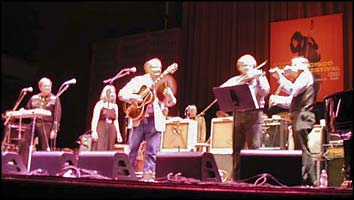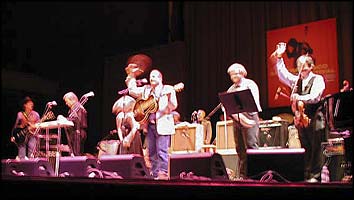 Bobby Black, Robert Black, Sr. / Ingrid Noyes, Don, Carlo Calabi / Don, Mark, Richard Saslow, Bing & Nathan in the background