November 8th, 2002, LOST WEEKEND Western Swing Band shared an evening with Merle Haggard and the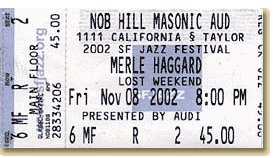 Strangers at the San Francisco Jazz Festival, a show dedicated to the music of Western Swing pioneer Bob Wills.
For Don Burnham, and his remarkable twelve-piece LOSTWEEKEND band, this triumphant Masonic Auditorium performance marked a milestone in a campaign to insure that the flame of Western Swing music continues to burn brightly in California and the West.
LOST WEEKEND'S story began in 1985, in San Francisco's Cow Hollow District, at the legendary bluegrass club, Paul's Saloon. Guitarist, vocalist, and bandleader Don Burnham was invited to assemble and lead a Western Swing
ensemble for a regular Tuesday night gig at the popular music emporium.
The original LOST WEEKEND quartet consisted of Tony Marcus, fiddle; Keith Baumann, mandolin and dobro; Bing Nathan, bass; and Burnham on guitar and vocals. Almost immediately, Don persuaded steel guitar ace Bobby Black and reedmeister Jim Rothermel, to saddle up. The seeds of a remarkable collaboration that would endure for more than three decades had been sown.
String wizard Tony Marcus suggested the name LOST WEEKEND for the group. A trivia buff, Marcus knew that Ray Milland's character in the 1945 Academy Award motion picture, The Lost Weekend, was named Don Birnam. The LOST WEEKEND moniker proved to be catchy, and it stuck, but more importantly, the band received immediate acclaim from audiences, and from critics.
LOST WEEKEND began to develop a regional following. Some nice plugs from late San Francisco columnist Herb Caen didn't hurt, nor did continuing praise and encouragement from much-beloved and respected Bay Area jazz writer educator, and radio personality, the late Phil Elwood.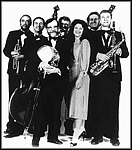 And at the same time he was building LOST WEEKEND, Burnham was leading a traditional jazz & Dixieland outfit — the NEW CENTURY JAZZ BAND, also featuring Jim Rothermel and Bing Nathan. The NEW CENTURY JAZZ BAND was a highly swingin' hot jazz band, which featured drums, a female vocalist, and sometimes piano, as well as three horns in the front line. Jim Rothermel's masterful musical direction and a stellar cast of Bay Area jazz artists propelled NCJB, and for a number of years, Burnham found himself leading two popular swing groups.
In 1991, Burnham received a call from the San Francisco Jazz Festival inviting him to assemble and direct an allstar Western Swing concert for SF JAZZ — a tribute to pioneer Bob Wills. Tickets for what came to be billed as "Cowboy Jazz" soon sold out; the producers added a second show for the evening.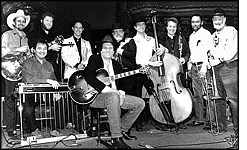 Burnham brought in Western Swing greats Johnnie Gimble, Jimmie Rivers, Vance Terry, Johnny Cuviello, and vocalist Don Edwards to augment, what was billed for the occasion, as the LOST WEEKEND WESTERN SWING BIG BAND.
The recipe proved to be just too tantalizing and popular. In the years to come, LOST WEEKEND solidified into a mighty Western Swing "large band" — at times fielding three horns, twin fiddles, full rhythm section with steel, lead, and rhythm guitars, as well as piano, bass and drums. From the outset, the LW group was in demand not only as a dance band, but also as a concert attraction. One critic tagged the LOST WEEKEND lineup: "A Who's Who of Bay Area Country-Western and Jazz."
High profile performances which brought LOST WEEKEND to broader and more diverse audiences included the Great American Music Hall (1992), Strawberry Music Festivals (1992, 2003. 2009), several of the late Melvin Belli's legendary Halloween parties in the 80's and 90's, the Bill Graham Presents Country-Fest shows at Shoreline Amphitheatre in the 90's, and events in the City such as San Francisco New Year's Eve, and the Black and White Ball.
In 1998, Don Burnham was called on to produce an album of all-original Western Swing music for the SONOTON music library (Germany). SONOTON SCE 012 — Swingin' Out West — features twelve original LOST WEEKEND tracks. These Western songs and tunes are licensed worldwide for use in television and radio production, commercials, and in motion pictures and other media. This SONOTON LOST WEEKEND library may be accessed at: http://www.sonoton.com.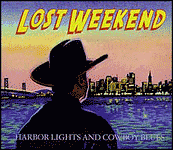 2002 brought the release of the LOST WEEKEND album HARBOR LIGHTS AND COWBOY BLUES (Redoubtable Records RR101). Featuring the modern LOST WEEKEND 12-piece band, the CD contains fifteen classic Western Swing performances. The album received rave national and international reviews, including reaching #1 Western Swing Album in March 2003 (Mike Gross — Swingin' West).
LOST WEEKEND LIVE!— SWINGIN' OUT WEST (Redoubtable Records RR120) was released in March of 2006. The CD features fourteen live LW recordings from Burnham's vault. The performances are re-mastered from both audio and video sources and span nearly two decades.
The San Jose Stage Company tapped LOST WEEKEND, using Don Burnham, Bobby Black, and Mark Holzinger as musical cast members in two different productions: the Western musical comedy CHAPS!, and also CUMBERLAND BLUES, which featured the songs of Jerry Garcia and Robert Hunter.
For the Millennium — New Year's Eve 1999 — an eleven-piece LOST WEEKEND "large band" entertained residents and guests at an extraordinary ten-day celebration at Sugar Bowl Ski Resort in the High Sierra.
Western Swing fans are as eclectic as the music itself. LOST WEEKEND performs at special events, concerts, dances, theatres, resorts, National and State Parks, hotels, and nightclub venues throughout California and the West. The band's classic Western Swing music has made it a favorite at traditional Western-themed events: trail rides, ranch dances, rodeos, & mounted patrol gatherings. In addition, the band's wide appeal has propelled LOST WEEKEND as a headliner at the West's major music and dance festivals.
Three of the original members of LOST WEEKEND remain in the modern band: Don Burnham, vocals and rhythm guitar; Bobby Black, steel guitar and vocals; and Bing Nathan, bass. Jim Rothermel died in 2011, and Burnham considered disbanding LOST WEEKEND, but instead recruited reed-ace Dale Mills to fill Jim's chair, allowing the band to continue.
Pamela Brandon joined in 2005 as featured vocalist in LOST WEEKEND. Rounding out the LW "Longhorns", along with Dale Mills, are Bob Schulz, cornet & vocals; and Kevin Porter, trombone. Mark Holzinger is LOST WEEKEND's lead guitarist — Mark's takeoff guitar is featured on all the LW studio recordings to date. LOST WEEKEND'S rhythm section also features pianist Shota Osabe, veteran swing drummer Rick Alegria, in addition to founding bassist Bing Nathan.
LOST WEEKEND'S fiddlers are Paul Anastasio, Paul Shelasky, and Blaine Sprouse. The band's principal arrangers have been Jim Rothermel, Paul Anastasio, and Don Burnham.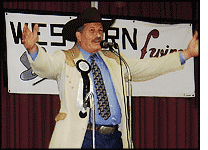 Bobby Black has been inducted into the Steel Guitar Hall of Fame. Bobby Black, Paul Anastasio, and Don Burnham have been inducted into the Western Swing Hall of Fame.
LOST WEEKEND'S diverse client list includes: Sacramento Jazz Jubilee, San Francisco State University Arts and Lectures, Yosemite Conservancy, San Francisco Symphony Association, National Park Service, Apple Computer Corp., City of San Francisco, Bill Graham Presents, Stevinson Ranch, Black Oak Casino, Tuolumne County "Mother Lode" Fair, Delaware North Corp., Oracle Corp., Concord Police Department, Western Trailride Adventures, Martinez Police Department, Sonoma Hospital Foundation, City of Dunsmuir, Stanford University, City of San Mateo, Notre Dame High School, Market Street Merchant's Association, Wm. H. Crocker Middle School, Yosemite National Park, Sugar Bowl Ski Resort, Monterey Cowboy Festival, California Cowboy Gathering, International Society of Immunologists, St. Francis Yacht Club, Bohemian Club, San Francisco Jazz Festival, Strawberry Music Festival, Rancheros Visitaderos Trailride, and the Ahwahnee Hotel, among many others.
On the World Wide Web: www.lostweekend.ws